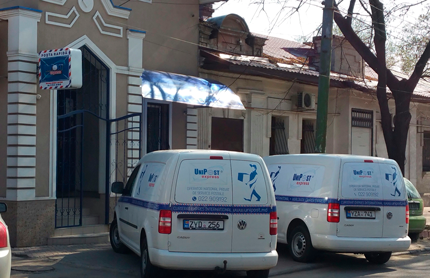 The 2002 year was the begining of a successful activity of the company Unipost Expres SRL on the market in Moldova in the area of international and local express post delivery services.
Unipost Expres SRL is an authorized private operator in providing postal services on the territory of Moldova and abroad.
The main differences form our competitors:

- we provide qualitative services commensurable with the expenses, using the global network of partners in the whole world for the provision of appropriate quality of the services;

- for all directions of deliveries, our basic prices for the services are lower by minimum 20 % than the prices given by our main competitors. And if you have an sufficient amount of expeditions, then we would gladly offer you an 50% discount of our basic prices depending of direction of the expedition;
- we don't have hidden expenses. We don't rise the basic cost by adding: coefficient for the fuel surcharge, fee for security of transportation or insurance fee.
- Being a part of the group of companies which provide services with the brand of the international logistical operator Pony Express ( www.ponyexpress.md )), we provide to our clients the lowest prices for the postal deliveries in countries of the CIS and Baltic, and also can provide the service of delivery from these countries with the possibility of payment by the recipient;

- We provide unique services and oferte speciale on prices, discounts for postal deliveries in Russian Federation and from Russian Federation to R. of Moldova;

- we provide delivery from and to European Union with ECONOMtariff;

- On our site we have an useful instrument for the calculation of the price for delivery ;

– TARIFF CALCULATOR;;

- On the site, You will be able to find a lot of useful information, , and always can give your questions online;

- Services Mail Forwarding from SHIPOTEKA ®. We provide a virtual address for your online shopping in abroad online shops and deliver them to you in R. of Moldova, in accordance with your desire.