May 2002 has marked a successful beginning of the "Unipost-Expres" SRL on the Republic of Moldova market in the field of international and domestic courier service for postal shipments.
In 2013 our company received a deserved grant from EBRD BAS Moldova for improvement and implementation of automated informational management system and accounting processes of postal services.
Our main diferences from our competitors:
- we are not agent of one international courier service, this is why we can operate with tariffs of diferent international partners.
- we offer our clients the most favorable delivery tariffs, route and conditions, according to their request
- we offer quality service commeasurable with expenses, using international network of partners and agents all around the world to ensure quality services;
- in many directions our tariffs for service are lower than our competitors offer, especially for shipments containing DOCUMENTS with weight till 0,50 kg;
- we do not increase tariff by adding to it the fuel surcharge coefficient  (fuel surcharge);
- you will find a lot of useful information on our company website, and you can always ask a question using online form;
- we can offer related and non-standard courier service in some directions. For more details about these services you can read on the page Additional services.


Entrusting us with important documents, you can be completely sure about their safety. Our company envelopes are impossible to open without being noticed. And unique numbering of the packaging materials allows to determine if your shipment was open or repacked. Control over the integrity of the package is carried out on every transit point of your shipment, that allows to take all the necessary measures for the shipment safety.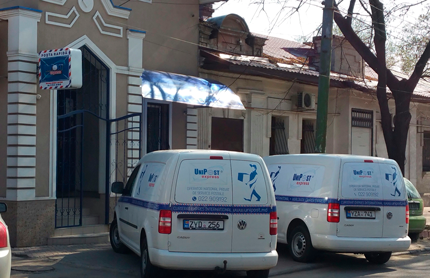 Check the rates and delivery terms, consult with our operators about the questions you have, place the order, invite the courier, and you will see by yourself the quality and reasonable prices of our services. You for sure will become one of our regular costumers! From May 2002 our head office is located at: Chisinau city, Center, M.Kogalniceanu str., nr. 26 of. 22..
Welcome!!!